9 tips for a successful online interview
The interview with an American employer is probably something that put extra stress on you, but we promise you, there is nothing to worry about. It is very likely this to be your first time applying for a job, and to help you prepare for it we have 9 tips for how to succeed in a Job interview. 
It is good to know that over 90% of our participants are getting hired on their first interview. 
Should you have any questions or concerns your Usit consultant will be happy to advice you and to give you some more guidelines. 
In the article below you will find 9 tips for a great job interview.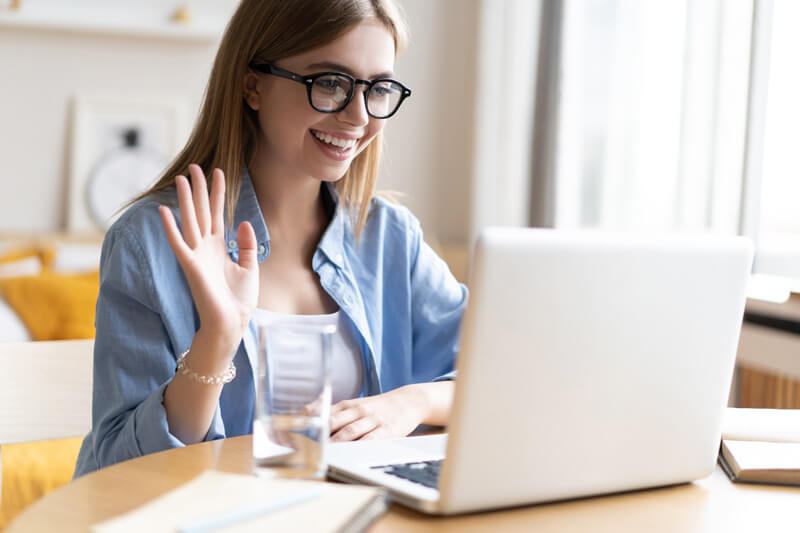 1. Build your image
Put effort into your resume/CV! This is your business card and the first thing by which the employer will make the first impressions about you.
Choose a suitable photo, pay special attention to the sections Work Experience and Skills – as a rule they interest the interviewer the most, and it can always turn out that something you consider a hobby, is important and sought after by the employer for the position you are applying for.
2. The set up
Although your job interview will take place in the comfort of your home, it's a good idea to choose a spot that looks more business-like.
✅ Look at it this way, as if you are inviting not just a stranger, but your potential future employer, to your room and think what you feel comfortable to show him (you certainly wouldn't want clothes everywhere, pizza boxes, etc.).
✅ We advise you to sit at a desk, also if you can position yourself in such a manner that there is a wall or other neutral background behind you.
✅ Make sure there is ample lighting.
✅ Try to eliminate any background noise and movement – music, working TV, other people in the same room, pets, household appliances…
3. Body language
It is an extremely important element in any job interview. Behave as you would in In-person interview.
✅ Strike the pose – whether you are sitting on a chair, behind your desk or on a sofa (lets avoid sitting on the bed), make sure your posture is upright.
✅ Maintain eye contact with the webcam.
✅ Smile and show positive attitude.
✅ Do not cover your mouth or parts of your face with your hands.
4. Dress to impress
You don't have to wear a suit or formal attire, but wearing your home clothes, such as a sports jersies, pajamas, etc. Is not acceptable.
Jeans and a T-shirt / shirt / sweater would be a great choice.
5. Know your stuff
It is highly recommended that you know something about the employer and the place you are being interviewed for, as well as that you are familiar with what is included as duties and responsibilities in the position you are applying for.
6. Set the dates
Check the dates you can make a work commitment for. Employers have announced the earliest and latest possible start and end dates of the working period and they are reflecting the workload of their business. The mismatch of your availability with their needs can be problematic
7. Be on time
Although you have your interview set for a specific time, some changes in the schedule may occur due to various reasons – it is either the employer wrapping up the interviews faster than expected, or it takes longer than usual, or some of the other student is not available due to connection failure – a lot of things could happen.
Therefore, be available online about 30 minutes before your interview time. Be prepare for delays too, so stay online even if your interview time has passed.
8. Sound check
In order to have a successful interview, it is essential to have a good connection – please check your mic, audio and webcam before the interview.
9. The talk
Of course, there is the challenge of having to speak in English, but there is no need to worry. Employers are aware that the person across from them is not a native English speaker.
No one expects perfect vocabulary, grammar or pronunciation, and most employers have years of experience hiring and working with students from around the world.
Speak clearly, take your time, and if you can't hear or understand a question properly, don't hesitate to ask them to repeat it.
If you follow these tips, the interview will go smoothly, probably even fun and most of all successful! Your good preparation and attention to detail will inevitably be noticed and appreciated by the interviewer!

Good luck!