Taxes that I pay while I work in the USA
Everyone who works in the USA pays taxes to the US government based on the individual income. The amount is determined by the federal, state and local government. In most cases you can get a refund on your taxes. Theses taxes being:
Federal tax – usually comes out to around 10% of the total income. It is payable to Internal Revenue Services (IRS).
State tax – Usually it is between 2% and 8% and is payable to the treasury of the state you work in. Some of the states have determined not to collect such a tax at all – Alaska, Florida, Nevada, Texas, South Dakota, Washington, Wyoming, New Hampshire and Tennessee.
Local tax – These are taxes that are paid only in certain locations like New York, some cities in New Jersey, Ohio and others. They rarely surpass 1-2% of your total income.
Social security and Medicare Tax/FICA taxes. These are taxes that concern the US citizens only. According to the taxation laws, exchange program participants are exempt from paying them. If such taxes are witheld from your paychecks you can request them back on site from the employer or apply for a full FICA refund once you get back home, if you have followod the program rules and kept all required documents. If you have any other type of visa those taxes are non refundable.
How much Tax Refund can I get?
The taxes you have paid during your summer in the States are refunded from the federal or state tax authorities respectively. They determine the amount you will receive. At the end of the year a calculation is made on the ratio gross income and taxes withheld and in most cases it turns out that they have withheld more than they had to. The surcharged sum is what you get as a refund from the tax authorities either as a check or straight into your American bank account.
In order to get a refund of the taxes you have overpaid you need to file a tax return (tax declaration). You can do it yourself by sending the return to the required tax authorities or you can use our services.
To make it easier for you we offer to do a calculation of how much you can apply for, to prepare your return, to send the signed return and to monitor its status in the tax authorities systems. If you have an active US bank account you will get the refund straight into it. If you prefer the check option then one will be issued and send to our office, where you can pick it up.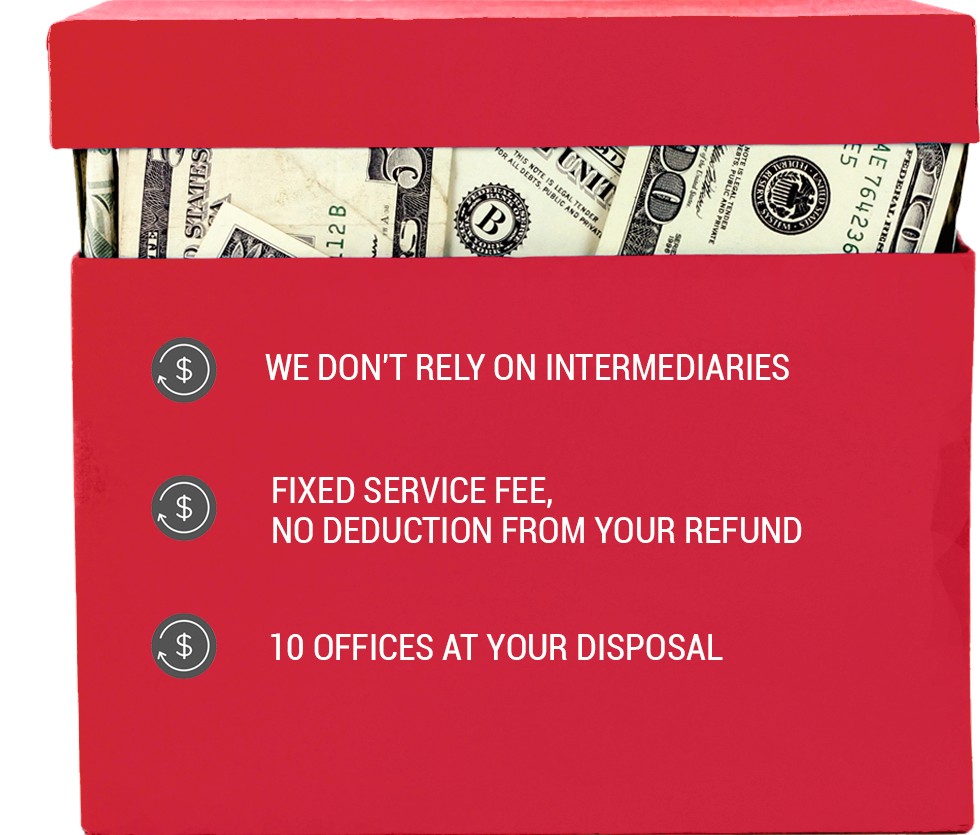 We have a fixed service fee
Our service has a fixed price and is not binding as a percentage of your refund. There are no extra fees, like bank transfers or shipping fees. You know exactly what to expect and there are no surprises.
We don't rely on intermediaries
We don't use intermediaries but do the entire process ourselves. You benefit from a fast and professional service provided by our experts preparing your documents.
10 offices at your disposal
You can talk with one of our consultants in an office of your choosing. They will answer all your questions, explain the process and follow the status of your refund on your behalf.
How much does it cost to do tax refund with us?

Choose this option if you are applying only for federal tax refund. You receive a check or a transfer into your American bank account.
The standard service for refunding your taxes, both federal and state. You pay the fee when you sign up with us and then receive a check under your name in our office or a bank transfer straight from the tax authorities into your American bank account.
In order to get a calculation and prepare the declaration you need to have:
 

Last paycheck or a W-2 form
The so called last paycheck or payslip is the document that you receive with each paycheck. It provides information how much you have earned and what taxes have been withheld to date. If you have worked on more than one place you need to have the last paychecks from each employer.
The W-2 form is issued by the employer at the end of the year and in it there are the final numbers on how much you have earned and what taxes have been witheld for the entire year with said employer. It is the duty of the employer to send you the form in the period 01-31 January the following year. If you have worked for more than one employer you need to have the W-2 forms from all of them.
To calculate your refund we can work with the last paycheck only, but it is recommended to use the W-2 form for the return itself. If for any reason you have troubles obtaining the W-2 form, don't worry in most cases your last check can be used as a substitute. Furthermore a lot of employers have adopted the practice to upload the W-2 forms on specialized sites. If you have worked for a large company with thousands of employees there is a good chance that your W-2 is just a click away. Contact our consultants for further details.
Social Security Card
It is issued by the Social Security Administration at the beginning of your stay in the USA. The number on this card is used by the IRS to identify you. If you have lost, damaged or have never received your social security card contact our consultants for assistance.
The passport you used to enter the USA
Along with  the retun there should be provided a copy of your passport and the visa you travelled with. Also the dates of arrival and departure to and from the USA are required.
Actually to get your tax refund you don't have to do much. We will do all the work for you, regardless of the agency you used for your work and travel program. Our experts will fill out your tax declaration in the most accurate and legal way possible, thus guaranteeing you will receive what you are owed.
In Usit Colours you receive a service that is simplified, at a fixed price.
We start off by calculating the possible refund. To find out what your refund would be bring us or send over the e-mail your W-2 form or last paycheck from each employer. Our consultants will assist you with the calculation, free of charge. The calculation is preliminary and is based on the information you have given us and the taxation rules and regulation at the moment.
If you decide to sign up with us to assist you with the tax refund process you only need to provide the required documents and information. Our experts will take it from there. We will prepare your tax return and once you have approved it we will send it to the tax authorities. We closely follow as the US tax authorities process the declaration. Usually it takes about 4-6 weeks, but for some states a bit longer than that.
Once the refund is approved by the tax authorities they will send check or make a transfer into your American bank account. The most popular refund method is a personal check issued by the respective tax authorities, which usually arrives in Bulgaria 2-4 weeks after approval of the refund. You can also choose the faster option, which is to have the money transferred by the tax authorities straight into your American bank account. This process is 1-2 weeks faster than the check.
USIT  go to usa
We are Usit Colours - one of the leading US exchange programs agencies in Bulgaria, and GO TO USA is our website, specially designed to present the destination US. Our aim is to  provide you with all the information you need to plan your trip to the US. We would be delighted if you choose us to be your exchange program agency for Work and Travel, Internship or Camp Counselor USA.
WE GIVE YOU THE BEST PRICE